Will Your New Home Be a Living Breathing Home?
As today's new homes become tighter and more energy efficient, there is a growing concern over the quality of indoor air. Some studies indicate that the air inside the average home can be up to 70 times more polluted than the air outside, which can lead to many health and respiratory issues for the occupants. Look for the Living Breathing Home decal in your builder's model home. It's the only way to GUARANTEE optimal air quality inside your new home – for the health and comfort of you and your family.
Living Breathing Home Benefits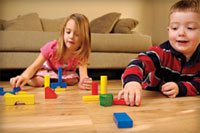 A Living Breathing Home provides a level of indoor air quality that is second to none.
In a Living Breathing Home, stale, moist indoor air is not allowed to linger. Instead it's regularly expelled from the home and replaced with a constant stream of fresh, oxygen-rich air from outside.
The result is a healthier, more comfortable home environment – where breathing is easier, and irritation from allergens and contaminants are reduced.
Certified Builders
A certified Living Breathing Home builder recognizes the benefits of providing their clients with a healthier home. Only certified builders are allowed to use the Living Breathing Home logo: the symbol that stands for quality construction, energy efficiency and indoor air quality.